Quality, Innovation & History that you can afford
HanleyLED, a proud member of the Grimco Exclusives family, has become one of the largest brands of LEDs in the industry. However, the brand didn't start as the robust product offering, we know today. From humble beginnings to LED sign staple, HanleyLED solutions are continuing to shine bright everywhere you look.
Historical Background
To understand where HanleyLED came from, you need to know a little bit about where Grimco came from. So, let's go way back to the beginning of a company that would soon be home to the brand you know and love.
Grimco has a history of over 145 years of innovation and production. The company was founded in 1875 as a premier manufacturer of embossed police & fireman badges. As cars became prevalent, the demand for street signs put Grimco's innovative experience to the test, leading it to become the premier manufacturer of street signs. Fast forward several decades to 1977, when Grimco became an overall Sign Supply company, expanding product offerings and testing its innovative history once again.
In 2011, Grimco completed 2 acquisitions of electrical sign supply companies. With those acquisitions we inherited several lines of LEDs but narrowed it down to one unique brand. We soon found out, that a majority of illuminated sign manufacturers in our Midwest markets weren't buying the name-brand LEDs on the market but were instead purchasing these unique LEDs we had just acquired. These modules caught the eyes of consumers from the beginning because they did not fail and brought quality to the market, despite being affordable.
A Brand is Born
After reflecting on 100+ years of experience in innovating high-end, long-lasting products for the sign industry, Grimco decided to take this LED brand and put strict Quality Control practices in place and an extreme emphasis on innovating and developing new products. This strategy would keep the brand ahead of the market in the years to come.
What started off as a product line intended to support the Midwest, quickly expanded into other markets through word of mouth. Trust was driving our customers to tell their friends across the country, molding it into one of the largest brands in the Western Hemisphere!
The only problem was…..this amazing brand of LEDs didn't have a name. And that's where Grimco's history really comes into play.
We needed to give this great brand a name that reflected the philosophy of never cutting corners when making the most affordable, high quality LEDs and Power Supplies in the industry. We named it "HanleyLED." This originated from Hanley Industrial Court, the name of the road where Grimco Headquarters resided for decades. Bringing Grimco's history and innovative culture into the naming of HanleyLED is a constant reminder of our responsibility to build the highest quality products, using the most intensive Quality Control measures, all while keeping our customer's best interest in mind.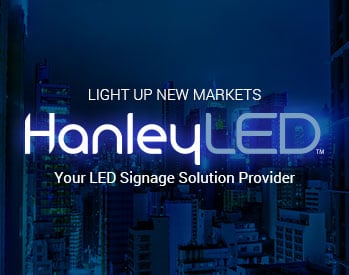 HanleyLED Today
Today, HanleyLED continues to push the industry in leading solutions that save customers time and money. Each product is tested and backed by the industry's strongest warranty, so you have confidence going into any job.
HanleyLED's Tier 1 power supplies, LEDs and accessories are backed by Grimco's continuous service and support. The long-time brand philosophy that built HanleyLED still remains true today. With every new product released, we are committed to providing quality, innovative solutions at an affordable price.