Why Outdoor Floor Films?
Exterior floor films have traditionally been used as wayfinding signage, temporary event displays, and advertising graphics. While they certainly still function as such today, they have also become a staple in social distancing solutions. Businesses are now relying on sidewalk decals for safely distanced customer lines, concrete floor graphics for entrance and exit directions, and many other informational floor graphic applications. Whatever the purpose of the film, it is important to choose the right one for the job to ensure proper performance.
Materially Different
Outdoor surfaces are more textured, uneven, and less receptive to adhesives than indoor floor films. They also have to weather the elements, withstand foot traffic, install easily, and remove cleanly – that's a lot to ask out of a pavement decal! However, many films have been strategically adapted to perform admirably within these parameters. Outdoor floor films are typically a thicker gauge and made from different materials that better equip them to be used outside.
Foil-based films: Many outdoor floor materials are constructed with aluminum foil, which is flexible and conforms easily to the underlying surface. Adhering well to heavily textured surfaces makes foil-based films ideal for asphalt decal and pavement decal applications, though they can be installed on brick, stone, terrazzo, and other outdoor surfaces as well. Foil-based floor films are generally longer-lasting than others, as some can be expected to last up to one year in outdoor floor graphic settings.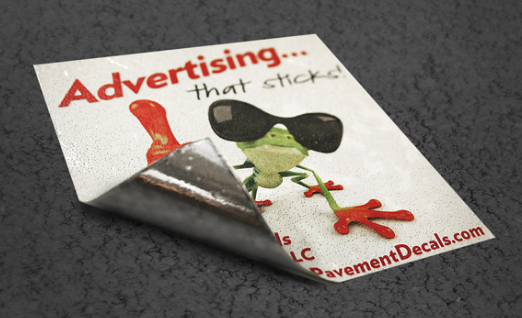 Fabric-reinforced films: Some films rely on a fabric or nylon reinforced PVC vinyl film to withstand the rigors of outdoor application. These films can adhere to many of the same surfaces, though the construction is usually suited better for short term projects. The average expected durability is around three months for exterior floor decals. This makes them a perfect solution for concrete floor graphics, ceramic tile applications, brick decals and many more!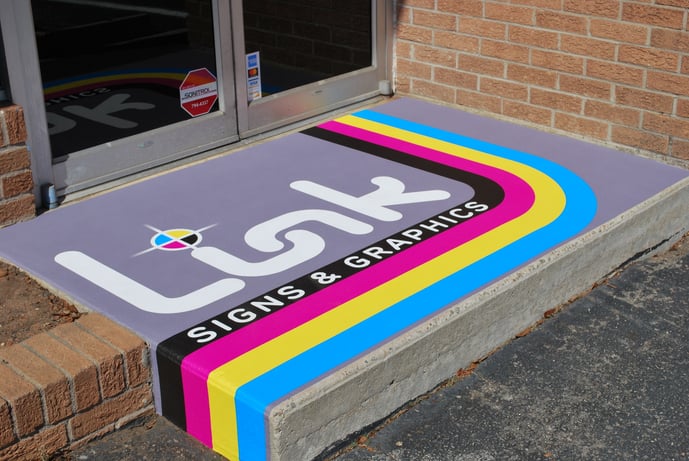 Lamination Situation
Most foil-based and fabric-reinforced films have built in slip-resistance that complies with various UL or ASTM standards, allowing them to be used in foot traffic areas. The one-step, no laminate process offers a quicker, more efficient installation and lets graphics show in their full potential, uninterrupted by an overlaminate.
Other outdoor films like 3M™ 3662 Scotchcal Sidewalk Film, which is specifically designed for sidewalk graphics, have a more standard construction, being a thinner cast vinyl that requires an outdoor, slip resistant laminate.
Printing & Cutting Outdoor Floor Films
Outdoor floor decals and graphics can be printed on a variety of ink platforms, including solvent, eco-solvent, UV-curable, and latex, and can be cut to size and shape using standard print & cut solutions or plotters. However, it is important to confirm ink compatibility and cutting instructions, as some films might require different blade settings than others. Grimco.ca lists compatible print methods as well as the technical data sheets for each product, where cutting and blade instructions can be found.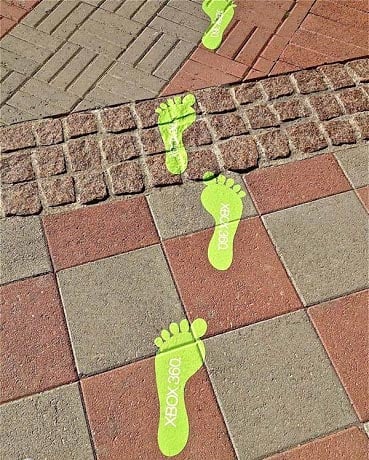 Applying Outdoor Floor Films
Once the graphic is printed and cut, let the application process begin! The first order of business is to make sure the surface temperature is in the ideal range for the film. As a rule of thumb, most films should be installed with a surface temperature between 50° and 70° F.
Next, the surface should be prepped by removing as much dust and dirt as possible. If the surface is cleaned using water or other cleaning agents, it is important to ensure the surface is completely dry prior to continuing application.
Once the film's liner is removed, and it is placed in the correct spot, it can be secured in place. Different types of films have different requirements, but most call for either a hard or soft rubber roller or a squeegee. These tools will help activate the adhesive and seal the edges of the film, ensuring water and moisture do not get under the graphic.
Exterior Floor Film Removal
Removing outdoor floor films is generally very similar to removing indoor floor films. A putty knife or straight edge can be used to lift a corner or edge. From there, the edge can be peeled at an angle, which allows the film to remove easily from the application surface. As with many adhesive films, it is important to be mindful of each film's expected durability period. If the outdoor surface film is removed in conjunction with that time frame, there should be little to no residue left behind. If adhesives are left longer than recommended, they can start to form a permanent bond and become difficult to remove.
Now, more than ever, outdoor floor graphics serve as essential signage material. With such a variety of film compositions and potential application surfaces, it is important to not only have options, but know which ones are the right tool for the job. Grimco is happy to supply outdoor floor films from many of the industry's top brands, including: Briteline, FloorSignage, 3M, and Shil