Restaurants across the country are fighting to keep up with the new normal amidst the COVID-19 pandemic. Different provinces and local restrictions and regulations have forced restaurant owners and the food industry in general to pivot to remain viable in a tumultuous climate. One of the ways restaurants have managed to keep doors open is by implementing outdoor dining solutions, allowing customers to enjoy a dining experience while adhering to safe distancing and capacity regulations.
While theoretically temporary, restaurant patio enclosure systems can range from simple barrier fencing to more robust, semi-permanent structures. Grimco offers several products that can be used to create outdoor restaurant enclosures to help keep restaurant doors open and customers safe throughout their outdoor dining experience. These solutions help offer better, more professional construction, graphic and branding opportunities, and social distancing mindfulness.
Wall & Barrier Materials
One of the most important aspects of the outdoor dining experience is the wall enclosure. These sidewalk café barriers help define the outdoor dining area and can be constructed using a variety of different materials.
MAXMETAL Aluminum Composite Panels
MAXMETAL Aluminum Composite Panels are one of the most versatile options for patio enclosure panels. These ACP panels are lighter than standard aluminum and more durable than wood or plastic panels. They are vinyl receptive, and some can be digitally printed, giving restaurants the ability to feature logos and branding graphics.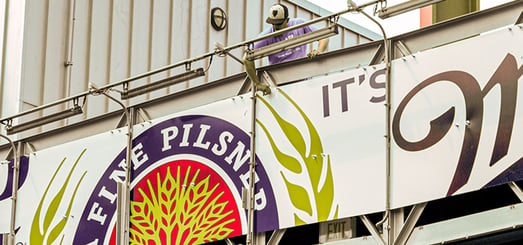 To install, these panels can be fastened to steel and wood frames, or slotted into channels on sturdy base and railing materials. Featuring strong chemical resistance, MAXMETAL can be easily cleaned and has excellent durability properties.
Acrylic & Polycarbonate
For a transparent, clean look, acrylic and polycarbonate panels can be used as a see-through barrier option. Whether installed in the channel of a sturdy base substrate or used in conjunction with a railing system, acrylic and polycarbonate offer durability to resist outdoor exposures and chemical resistance that allow it to be regularly cleaned. Consider using a window graphic or specialty cut vinyl to add a branded look to the outdoor dining space!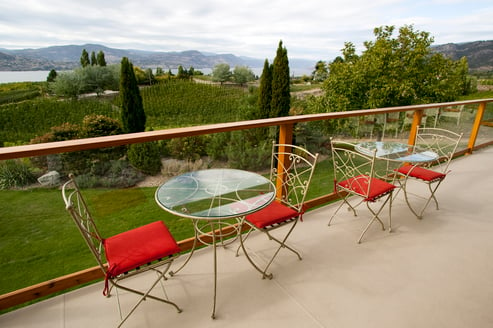 While polycarbonate is more impact resistant, acrylic is more rigid and can offer better visibility. For acrylic, as with any material, care should be taken during installation. Improper installation can cause cracks or other breakage.
Duratex Banner Material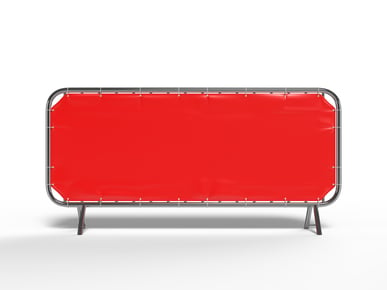 Duratex Banner can be used for more temporary patio enclosures, like portable fencing panels. Duratex banners are digitally printable and easy to install using grommets or banner tabs. With double-sided and single-sided options, there is a Duratex solution for many different banner applications.
Roofing Options
When you think Duratex, chances are you think about the many banner display options available. But, did you know that you could also use Duratex 18oz Premium Double-Sided Banner as a roofing option? Now, it's important to note that this is not the application intended for the banner's warrantied durability. But, Duratex customers have had success using 18oz Premium, Duratex's most durable banner material, as temporary roofing for scaffolding-type structures.
Check out the video explaining the differences between Duratex 18oz Standard and 18oz Premium Banner from the Grimco Exclusives Virtual Tradeshow!
Floor Graphics
Exterior floor graphics can be helpful when setting up outdoor restaurant patio enclosures. They can direct the flow of traffic, indicate table placements, or serve as designated standing spots for outdoor bar enclosures. Grimco offers a variety of exterior floor film materials that meet the durability, printability, and ease of install required for temporary outdoor floor graphics.
Alumigraphics Grip
Simple, durable, and reliable, AlumiGraphics Grip is an ideal solution for exterior floor and surface applications. The foil-based film can be installed quickly and efficiently by end users, meeting non-slip and non-burn certifications. With durability up to 1 year for outdoor applications, this film is designed to provide graphics for the long haul, and is compatible with solvent, eco-solvent, latex, and UV print platforms.
3M™ 3662 Scotchcal Sidewalk Film
3M™ 3662 Scotchcal Sidewalk Film is a durable, opaque film designed for short-term outdoor graphics and can be applied to unsealed, smooth, or rough surfaces. This film is screen print receptive, and provides a great solution for pedestrian traffic, retail point of contact and informational signage.
Health & Safety Signage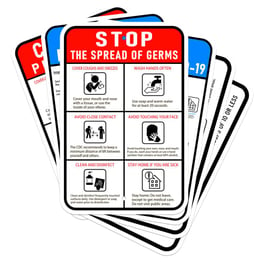 Within an outdoor dining setting, it might be required or encouraged to display certain types of safety signage to help keep patrons and employees as safe as possible. Grimco offered a variety of premade signs, designed specifically for COVID-19 related safety. These signs can be mounted to walls, fences, or signposts and were available with English or French.
Throughout 2020, restaurant and hospitality businesses have done an incredible job adapting to ever-changing environments, local regulations, and a plethora of other unforeseen circumstances. With enhanced outdoor structures, improved branding, and clearly defined safety parameters, restaurants can continue to offer patrons a (very) much needed meal away from home!