Maxmetal has become one of the most versatile sign substrates in the industry. The popularity has risen due to the ease of incorporating it into a range of projects, making it a leader across sign shops. Maxmetal can be used as a full 4'x8', 4'x10', or 5'x10' sheet or cut down to smaller sizes and even into 12"x18" parking sign blanks. The versatility of Maxmetal goes beyond just applications but also allows versatility with the fabrication process. Maxmetal can be sawed, routed, scored/v-grooved, and bent to fit your specifications. You can quickly learn about each product line and the ideal applications used for them.
Here are some simple and unique fabrication methods used by sign shops:
Score N' Snap
One of the most simplistic methods of cutting Maxmeal is the Score N' Snap. All you need is a box cutting knife -- no fancy panel saws or routers required for this method. Secure the straight edge in the desired cut location and score the Maxmetal with the knife blade. Of course, it depends on the thickness of the aluminum skin, but it usually only takes 2-3 scores. Turn over the substrate and bend it back on itself until it snaps a clean break. You can quickly take off any burs or rough edges present with the knife or a #2 pencil. It's that easy and remains a popular method for a lot of shops, big or small.
Saw Cutting
Saw cutting Maxmetal is an easy process you can accomplish with ordinary commercial metal and woodworking circular or panel saws. When utilizing a saw to cut Maxmetal, it's best to move the saw blade relatively fast through the substrate instead of slow. The faster the cut, the cleaner the cut becomes, as a slower cut motion tends to cause drag resulting in more burning. Additionally, you can cut more than one sheet at a time by stacking panels, ideal for smaller shops limited by workforce or bigger shops trying to create efficiencies with their time and process. We recommend using a 50-70 tooth metal saw blade in your saw for best results or check out the Milwaukee 50 carbide tooth metal saw blade for cutting Maxmetal ACP or Maxmetal Element-Steel composite panels.
Cutting Instructions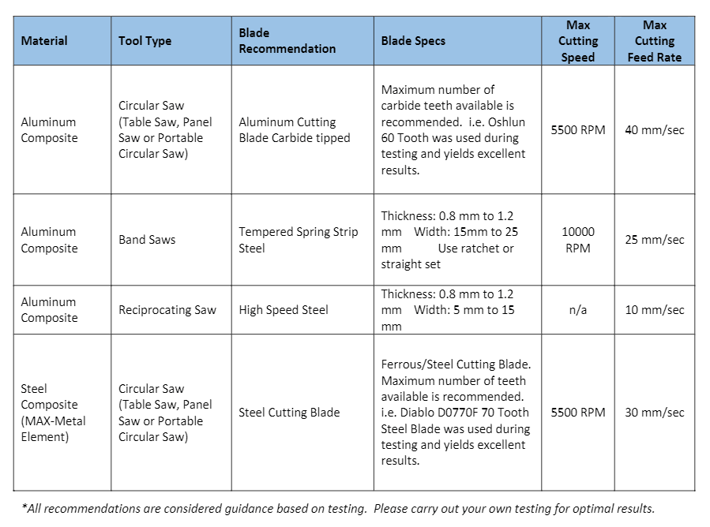 Routing
For cleaner and more precise cutting of Maxmetal, routing is a popular option. Routing letters, logos, and smaller pieces are primarily accomplished with a router. Channel letter backs, ornate custom sign blanks, or cabinet faces with push-through letters, all easily achieved with the routing method. Maxmetal cuts rather easy on most routers using an aluminum upcut bit. Be sure to check with your router manufacturer for the best setting for spindle RPM, type of router bit, and feed rate. *And always make the vacuum is set correctly for the type of routing taking place.*
V-Groove Routing/Bending
The V-Groove routing method is a unique fabrication method used for bending Maxmetal. You need a special V-Groove router bit for this application. Maxmetal can route using conventional routing machines. For accurate and precise manual bending of the Maxmetal composite panels, resulting in a good finish, we recommend routing the rear of the panels to 2.5mm thick, going through the exterior aluminum layer and some of the Polyethylene core. Usually, the panel is grooved and bent 25-70mm from the edge. By routing through one of the aluminum skin faces and partially into the polyethylene (PE) plastic core in a "V" cut, this creates a cut for successfully bending Maxmetal. Usually, the panel is grooved and bent 25-70mm from the edge. See the illustration below: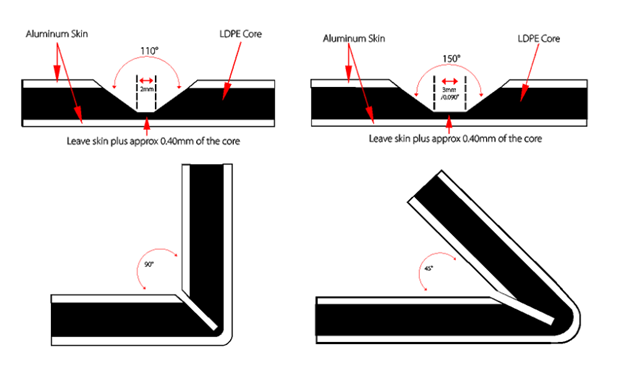 Industry Leader
For nearly 15 years, Maxmetal has become one of the leading ACM substrates in the industry. Because of its versatility, Maxmetal allows sign shops to have one "go-to" sign substrate to accommodate several sign applications, help reduce inventory and offer simple in-house cutting/fabricating. Give Maxmetal a try for your next sign project to see just how versatile and easy to use Maxmetal is and how it can maximize results.
For more in-depth information on Maxmetal or pricing availability, go to Grimco.ca or Maxmetal.com or speak to one of our friendly industry experts.