When you think of your go-to economical plastic substrate, what comes to mind?
If you don't think of corrugated plastic, you SHOULD!
Corrugated plastic is a fluted polypropylene plastic substrate that works for a multitude of applications. It was introduced to the sign market about 48 years ago promoting the name changes for Exxon and the 1976 Montreal Olympic Games.
This substrates light-weight tough material, which can be easily cut with a knife, makes it the perfect go-to for the sign industry. The popular item is particularly great for those jobs where your customers need an affordable, durable, yet short-term material. It doesn't matter if you are a shop that direct prints, prints on vinyl and sticks, or uses cut vinyl colours, because this substrate works for all of those options. So whichever way you operate, corrugated plastic is a good product to keep in stock on your floor!
The best part about corrugated plastic is that it can do so much more than just flat signage! Here are few applications you can try if you haven't already:
Common applications:

👉 Flat signs applications: Yard signs, real estate signs, political, special events.
👉 Shipping and packaging applications: pallet separator, product paddings, shipping containers, custom boxes.
👉 Construction: Site protection for walls and floors, bulk containers.
👉 Re-usable applications: Custom Boxes/packaging, totes, Trash/collection bins, storage bins.

Interesting Facts:
💡 Superior Printing - Our corrugated plastic boards are excellent for direct print and also work well for screen and digital print.
💡 Durability - Corrugated plastic is more durable than corrugated fibreboard. The Coroplast brand is waterproof as well as chemical and stain resistant.

💡 Re-usable - Coroplast corrugated plastic can be reused as layer pads, slip sheets, and corrugated plastic containers.
If you already knew about these additional applications and facts, we owe you a pat on the back! If you didn't, we hope this article gave you some new ideas to use at your sign shop.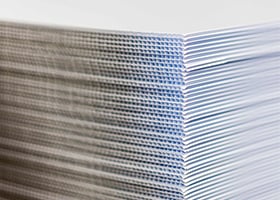 Place your next corrugated plastic order here!
Our shelves are stocked nationwide, ready to ship!
Have questions? Need something else?
Chat with us live or call your local branch!